Both men and women can suffer from chafing of the inner thighs, caused by sweat, heat, or friction from exercise. In response to this painful condition, Bandelettes thigh bands were created to eliminate thigh chafing, also known as the dreaded "chub rub". Thigh chafing can happen to anyone, of any shape or size. Read on to learn when and how you should wear Bandelettes.
While there are many treatments for chafed thighs, Bandelettes anti-chafing thigh bands were created as a preventive to stop thighs rubbing before any chafing occurs.
What Are Bandelettes?
Bandelettes' patented thigh band design offers a lightweight and fashionable alternative to using bulky anti-chafing shorts or anti-chafing underwear. Bandelettes thigh bands give you the freedom to move about without worry or pain while still solving the problem of chafing inner thighs. Our Bandelettes are the best anti-chafing bands on the market. They are quality stretchy bands, made of 90% nylon and 10% spandex. To use them, simply slip on over your thighs and go about your day without any risk of chafing. While cheap alternatives may slip down or move around, our thigh bands stay put so there's no need for adjustments.
You can view the entire product range by clicking here.
How Do You Wear Thigh Bands?
There are many ways to wear thigh bands, they work well with different outfit types or different occasions. Our sexier designs can double as pretty lingerie, while our unisex bands are great for the gym or worn under running shorts. Thigh bands come in handy for many different occasions, and our fashionable styles give you the versatility to mix and match with your wardrobe on any given occasion. You'll find that thigh bands quickly become one of your clothing staples.
Here are a few ideas on how to wear your Bandelettes.
Sexy Bandelettes In The Bedroom
Our sexy Bandelettes lace designs, in romantic red, classic black or chic nudes are great for spicing things up in the bedroom, or why not try wearing some Bandelettes on Valentine's Day. Thigh bands double as romantic lingerie – without any of the hassles that come with uncomfortable or ill-fitting garter belts and suspenders.
Wear White Bridal Bandelettes On Your Wedding Day
Our white and nude thigh bands are the perfect lingerie for weddings. No bride wants to be uncomfortable on her big day. With heavy, hot dresses there's always a risk of thigh chafe. Avoid discomfort by adding some pretty white thigh bands into your wedding outfit. Bandelettes aren't just for the bride, bridesmaids and wedding guests can also benefit from wearing anti-chafing bands under their summer dresses.
How To Wear Bandelettes This Wedding Season
Work Underwear As Outerwear
The underwear as outerwear trend comes and goes every few seasons. This sexy fashion trend comes in different forms with every reinvention. Sometimes it's a lace bra on show, a slip dress or a corset top. But most times the underwear as outerwear trend manifests in the form of statement hosiery or suspenders that are made to be seen. This can be a difficult trend to wear if you suffer from inner thigh chafing. Hosiery or thigh-highs can often irate existing rashes, and garters are known to slip down or cut into thighs. Our thigh bands are the perfect solution, they make a sexy statement when glimpsed under a thigh-high split dress or skirt.
If you're trying a semi-sheer or lace dress but want a little extra modesty, then thigh bands make a sexy solution. Bandelettes are far chicer than traditional shapewear. So skip the Bridget Jones style 'granny panties' and cover up your thighs with a lacy leg band instead.
Thigh bands make a great statement when worn under an oversized tee-shirt dress with thigh-high boots, a popular celebrity trend seen on the likes of Hailey Baldwin. You can also try them with swimwear and bodywear, as seen at New York Fashion Week where Bandelettes collaborated with Chromat.

How To Wear Bandelettes As Halloween Lingerie
The underwear as outerwear trend is never more popular than on October 31st. Halloween is one the best times of year to put your Bandelettes on show. Thigh bands keep you comfortable and stylish no matter how risqué or uncomfortable the rest of your costume may be. For more ideas read our blog on how to wear thigh bands for Halloween.
Wear Thigh Bands For Exercise
Although they are very stylish, thigh bands are first and foremost designed for comfort. Our unisex styles are ideal for runners or people who suffer from chafing of the thighs during exercise. Read our guide for preventing thigh chafing while running.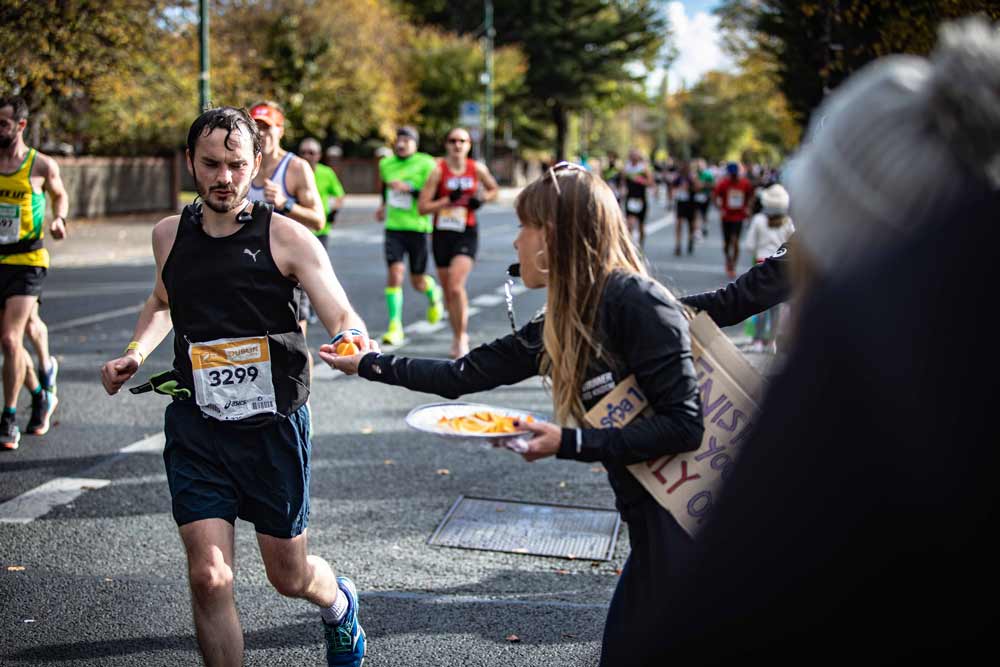 Pack Your Travel Thigh Bands
Bandelettes are an essential item for any traveler. Bandelettes come in handy for all types of trip. Whether you're traveling to a hot and humid country, going on a hiking adventure, or simply lounging with a cocktail in your summer dress. Hosiery is often impractical for travelers, especially in hotter climates. Thigh bands help stop your inner thighs from rubbing even in the most tropical destinations.
Whatever the occasion, there's a pair of Bandelettes for everyone and every mood. Try our thigh bands yourself and feel the difference!