Halloween is almost around the corner. Have you decided on what type of Halloween lingerie accessories you'll pair with your costume you'll wear this year? If you have yet to decide, we can provide you with some incredible Halloween costume ideas you can consider wearing with Bandelettes thigh bands.
Halloween costumes can be sexy, and skimpy! Worried about your costume chafing your thighs? You can wear thigh bands by Bandelettes® with your costume to avoid chafing, even with a leotard or bodysuit costume! Even if you don't choose a sexy costume, there's lots of walking involved with trick-o-treating. Don't let chafed thighs ruin your Halloween evening. Learn how to wear Bandelettes this October 31st.
Here are some Halloween costumes that you can rock this year:
1. Dorothy from the Wizard of Oz
For fans of the movie the Wizard of Oz, you can dress as your favorite character from the movie, Dorothy. You can wear a blue striped dress over a white shirt with blue socks and red slippers. You can wear your hair into two braids with two blue bows. Carry a basket with a stuffed dog in it to represent Toto from the movie. White Dolce Thigh Bands are the perfect accessories to spice up this otherwise cute and classic look.
2. Wilma from the Flintstones
Do you love the Flintstones? If you used to watch the Flintstones when you were younger, you should be Wilma for Halloween. Wilma, Fred's wife, wears a white dress with a pearl necklace. You can even set your hair like her's or wear a wig on your head. White or Black thigh bands are the perfect Halloween lingerie for this look.
3. Poison Ivy from Batman
You can find several costumes online that replicate the Poison Ivy's costume. You can wear see-through tights with leaves on it, green boots, a green dress, adorned with leaves, and green gloves with a green mask. You can wear a red wig unless you are a natural redhead already! With some costumes, you even receive a cape. You will look awesome as the sexy villain from the Batman movie. Pair with sexy red Dolce thigh bands so you can dance the night away at a fun Halloween party.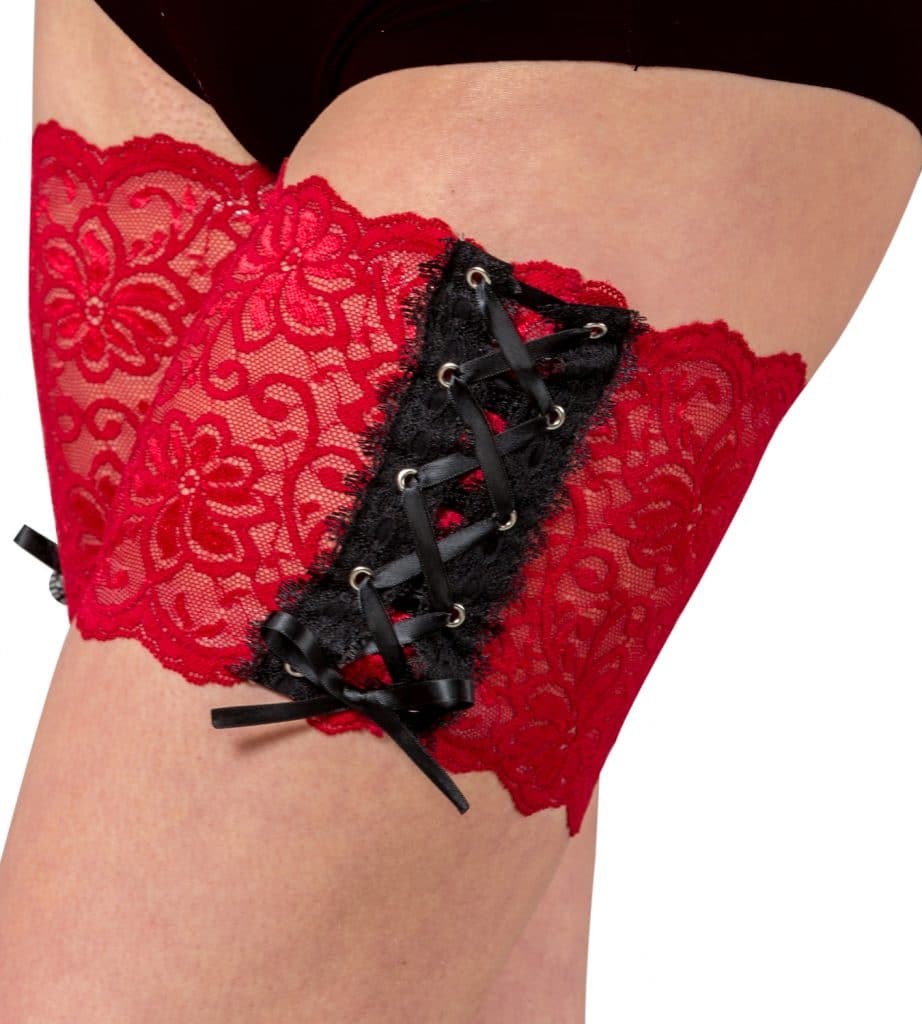 4. Starfire from Teen Titans
No matter how old you get, cartoon shows, featuring superheroes are always fun to watch. You can be Starfire from the popular show that even adults watch: Teen Titans. Starfire who comes from another planet is a character you will love automatically due to how nice, sweet, and kind she is. For the costume, you will wear a purple midriff shirt and a purple skirt with thigh-high purple boots and gloves. Wear a pink wig to complete the look.
5. Mad Hatter from Alice in the Wonderland
Mad Hatter from Alice in Wonderland is a quirky character. He is one of Alice's closest friends in Wonderland. His eccentric personality is what sets him apart from others. Even though Mad Hatter is a boy, girls can also wear the costume. Your costume will consist of wearing black patterned thigh-high boots, a purple skirt with black stripes, black gloves, a green coat over a purple pattern shirt, a purple pattern bow, and a black top hat. If you have a quirky personality and you can relate to the Mad Hatter, you can be him for Halloween. Sex up this masculine costume with Balck thigh bands.
6. Deadly Ninja
A deadly ninja costume consists of a black jumpsuit, red waist sash, black mask, and black arm warmers with a red ribbon on them. If you want to appear graceful, yet deadly this Halloween, you can wear this deadly ninja costume. You will look wonderful and mysterious as you enter the Halloween party. You can even add to your costume by carrying weapons such as nunchucks and ninja swords.
7. Minion from Despicable Me
Who doesn't love the Minions from the movie Despicable Me? Minions are super cute. You can become a super cute Minion for Halloween by wearing a blue denim dress and shoulder straps, a yellow jersey underneath it, black knee socks, silver plastic goggles, yellow headband, and black gloves. Slip-on some thigh bands by Bandelettes® to keep your thighs chafe-free.
8. Creepy Clown
For a super scary costume, you can become the creepy clown for Halloween. You can wear a pull on a black dress, a patterned petticoat, collar, headband, socks, and hat. You can paint your face and spray paint your hair a red color or some other creepy shade. You can carry a black, white, and red balloon as props. With a sinister smile, you can walk into the party and steal the show.
9. Ariel from The Little Mermaid
You can be Ariel from The Little Mermaid. You can wear a purple top with a green skirt and a starfish clip in your hair. Wear a long wavy red wig and carry a sea shell purse in your hand to complete the look. If the theme of the Halloween party is to dress up as characters from famous Disney movies, choosing Ariel is an excellent idea.
10. Tinker Bell from Peter Pan
You can transform into Tinker Bell from Peter Pan by wearing a green bodysuit, fairy wings with clear straps, and a ribbon in your hair. You can make your hair like the fairy from the popular children's movie. You can complete the look by wearing clear shoes, holding a sparkling wand and a tiara on your head. You can even add glitter in your hair and your face to really make you sparkle like a fairy.
More Ideas For Halloween Lingerie
Not only will thigh bands by Bandelettes® look great with your costume, but they'll also keep your thighs smooth! Don't let the fear of chafed thighs keep you from rocking a costume. If you were unsure what you will be wearing this Halloween, we hope you find our costume ideas of some help and inspiration. No matter what look you choose, we're sure that you'll look absolutely stunning in your costume and the best part, our thigh bands by Bandelettes® will look perfect with them.
Halloween Costumes For Curvy Girls
For more ideas for styling you Bandelettes check out our guide: How To Wear Bandelettes.