Dressing up for Halloween is one of the most fun and exciting occasions of the year for many of us. There are so many cute and creative curvy style ideas for women.  Every October you can find costume options lining every store rack along with adorable accessories to complete your outfit.
Wearing Halloween Lingerie
Halloween has a reputation for bringing out our racier and more seductive sides with venues that are packed full of men and women in their skimpiest attire. It's very common and acceptable to bring out some Halloween lingerie. You may want to embrace the underwear as outerwear trend and only wear only lingerie for your costume. If you don't want to expose too much skin, you can add lingerie as a sexy element paired with another costume. Thigh bands, stockings, and stay-ups are the most common lingerie for a Halloween outfit. Halloween hosiery gives you the opportunity to spice up your outfit a little bit and adds a little coverage in a season where weather can be unpredictable. Halloween lingerie goes great with bodysuit outfits, or short skirts and shorts. Pair thigh bands or stay-ups with common Halloween costumes such as a bunny, policewoman, sexy maid, witch, flapper and many more.
Whether you are keeping it modest this year or showing off your provocative side, follow these tips for picking out the perfect costumes for curvy girls.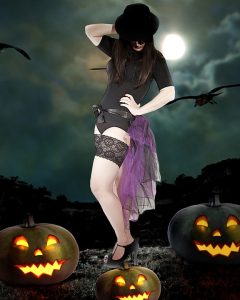 Curvy Style Tips
Show off just the right amount of skin. This is going to be based on your individual preference and body. You don't want to choose a costume that will be riding up or sliding down all night.
Pick a costume with a great fit that will stay in place and leave you feeling confident. Take a look at some of the boutiques around the mall. Many of them carry various costumes in a baby doll cut that compliments most body types.
Dress for the weather and play up your features. If it's going to be hot outside, don't choose a full-length costume that resembles something from the Renaissance era and vice versa.
Draw attention to your best features and downplay any features that aren't your best. Wear tights to create a smooth, soft texture on your legs. Pull up your hair if you have great shoulders.
Remember, above everything else you sure focus on wearing something that you feel great in.
Last, but most certainly not least, don't forget your Bandelettes! They go great under short costumes and will keep your inner thighs chafe-free all night long. Our lacy options are extra cute under sky-high costumes and add a little extra coverage if your ensemble is ultra-short. Make sure you order your pair in our Shop today to get them in time for this sexy holiday.
Whatever costume you choose this Halloween, wear it with confidence. There's nothing sexier than a woman who feels fantastic! For more ideas on how to wear Bandelettes check out our guide: How To Wear Bandelettes.